Rubber Insulating Gloves are personal protective equipment (PPE) used in carrying out work with energized parts, and are mainly used by lineman involved in the maintenance of power supply lines. They form the first line of defence in the utilities, telecommunication and transportation industries, in particular, the electric powered trains, hybrid automobiles and even Formula 1 racing circuits since the introduction of KERS system.
NOVAX® Rubber Insulating Gloves are manufactured using an environmentally friendly aqueous dip process. Our gloves are kept in the natural latex state which results in a glove that feels much softer and allows for greater dexterity when working, lessening hand fatigue on users.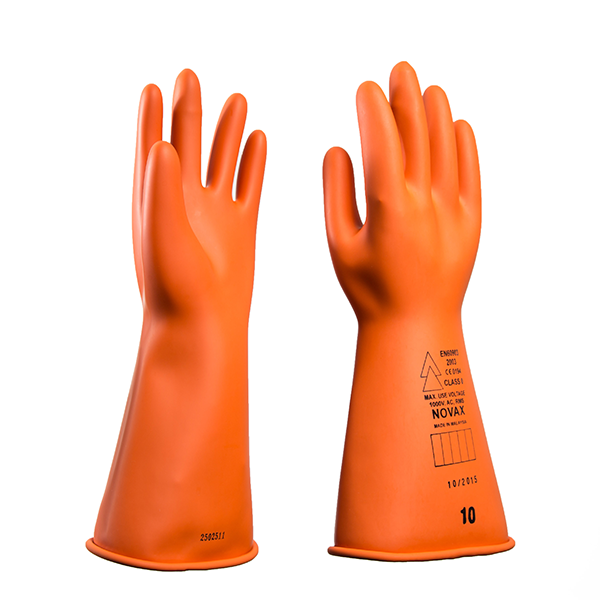 We electrically test every glove prior to shipment. Each batch of gloves is also subjected to a battery of physical and electrical tests. The skills and experience in latex dipping process acquired over more than 20 years resulted in the development of NOVAX® Rubber Insulating Gloves, which easily meet and even surpass the requirements of ASTM D120 and IEC/ EN60903, which are the internationally recognized standards for Rubber Insulating Gloves.
Additionally, every glove is marked with an electrical testing date along with a serial number which is unique to each individual piece. These allow us to trace the gloves to their production batches, allowing us to quickly address any quality issues that may arise.
The higher-class gloves are given the option of coming in 2 different colors, allowing users to immediately detect any damage done via scratches or cuts on the thinner top layer.
CUFFS
Showing all 8 results