How can we help you?
Frequently Asked Questions
Why should you pick NOVAX®?
NOVAX® Rubber Insulating Gloves are manufactured in Malaysia using an environmentally friendly aqueous dip process. Our gloves are kept in the natural latex state as compared to a solvent based dip which utilizes extensive amounts of volatile organic compounds (VOC's).
This results in a glove that feels much softer and allows for greater dexterity when working, lessening hand fatigue on users.
What material are the NOVAX® Rubber Insulating Gloves made from?
NOVAX® Rubber Insulating Gloves are manufactured from Natural Rubber.
What standards do the NOVAX® Rubber Insulating Gloves meet?
We manufacture them to meet the ASTM D120-14a, IEC/EN60903 and NFPA70E which are the standards for electrical insulating gloves and also standards for electrical safety in the workplace.
How should the gloves be stored and what is the shelf life?
NOVAX® gloves should be kept in a cool dry area, away from direct heat or sunlight. The gloves should also be kept away from any motors which generate ozone that degenerates the natural properties of rubber over a period of time.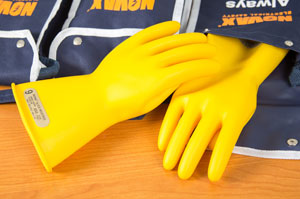 What are the functions of the different cuffs?
Aside from the traditional straight cuff which is already angled to maximize air flow and comfort in warm weather, we also produce gloves in two other cuffs: Bell & Contour.
The contoured cuff allows for the glove to be worn long to cover the users' elbows while allowing bending at the inner to avoid bunching up of rubber.
The bell cuff allows for dual usage: able to accommodate thicker winter clothing in colder climates, and greater air flow in warmer weather.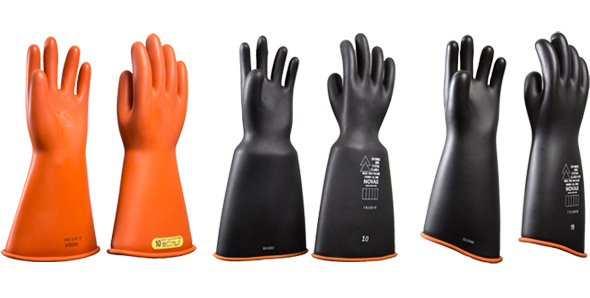 How are the gloves tested?
Each individual piece is di-electrically tested for their insulating performance according to the standard. Every production batch is also subject to a sampling for a battery of tests which include physical and further electrical testing.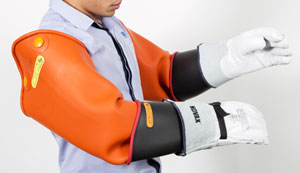 Do I need to have them re-certified?
According to Occupational Safety and Health Administration (OSHA) standards, gloves would need to be:
OSHA 1910.137 – Electrically tested before first issue & every 6 months thereafter.
OSHA 1910.268 (tele-com) – Electrically tested before first issue, twelve months after first issue & every 9 months thereafter
How to clean and store NOVAX® Rubber Insulating Gloves?
Wash with warm water (85°F) with mild detergent, disinfect with a small amount of chlorine bleach. Air or tumble dry at low heat (165°F). Gloves may be dusted lightly with talc to reduce tackiness.
Gloves should be stored in a glove bag, finger tips up, hung and not laid flat. Leather protecting glove should be removed before storage. Never fold gloves. Store in as dry and cool (95°F maximum) location as possible, away from sources of ozone and direct sunlight.
RUBBER INSULATING SLEEVES
How to inspect your sleeves?
Before wearing the sleeves, you must carefully inspect the inner and outer surfaces of the sleeves. Stretching or rolling the sleeves between fingers will help locate for any cuts, scratches, aging, ozone checking, corona cutting, embedded foreign material or other mechanical injuries. The user will also have to make sure they are not wearing the sleeves inside out.
How to store your sleeves?
NOVAX® Rubber Insulating Sleeves should be stored properly into their respective storage space, eg: the original box. This will allow the sleeve to avoid any folds and creases that will strain the rubber and cause it to crack from ozone prematurely. Avoid storing sleeves directly under the rays of the sun or forced hot air and do not hang sleeves by the shoulder strap or harness.
Proper storage will extend the service life of the sleeves. Never store more than one pair of sleeves in the storage space.
How to clean your sleeves?
NOVAX® Rubber Insulating Sleeves can be washed by hand or in a washing machine to remove dirt. Use tap water and mild soap or mild non-bleaching detergent. After washing, rinse them in clear water and dry thoroughly at an air temperature not exceeding 150°F.
When should NOVAX® Leather Protectors be used?
Leather Protectors that are worn over Rubber Insulating Gloves to provide the mechanical protection needed against cuts, abrasions and punctures. Under most circumstances Leather Protectors should be worn unless the dexterity required to perform the task requires that Rubber Insulating Gloves are worn alone. But remember that a Leather Protectors alone does not provide any electrical insulating protection.
How to inspect your NOVAX® Leather Protectors?
Proper care of Leather Protectors is essential therefore inspection must be done before wearing over the Rubber Insulating Gloves. Metal particles, imbedded wire, abrasive materials or any substance that could damage the rubber glove should be removed from the Leather Protectors after using.
RUBBER INSULATING BLANKETS
How to store your blanket?
NOVAX® Rubber Insulating Blankets must always be stored flat or in the respective storage space, eg: the original box. Before doing so, make sure to clean off all petroleum-based products and foreign substances. The blanket should never be folded or under any object and do not store them in the direct rays of sun or where hot air can blow on them. This is to prolong the service life.
How to inspect your NOVAX® Rubber Insulating Blankets?
Lay the blanket on a clean, flat surface and roll tightly, starting at a corner to check thoroughly for cuts, deep scratches, corona cutting, punctures and embedded matter. The blanket must be inspected on both sides.
What cannot be done with the NOVAX® Rubber Insulating Blanket?
The Rubber Insulating Blankets must never be used as an insulated mat. Storing blankets folded, or in ways that causing stretching or compression will quicken the damage to the blanket. Storing blankets near sources of UV, Ozone or heat and allowing blankets to be in contact with petroleum-based products (oil, gas and solvent) will damage the blankets as well. Do not leave blankets on energized primary conductors beyond necessary.
When should NOVAX® Rubber Insulating Blankets be retested?
NOVAX® blankets which has been put into service will need to be retested once a year as required under ASTM F479. Under this standard also shows the testing requirements needed for rubber insulating blankets. NOVAX® blankets which have not been put into service one year after the date stamped will need to be retested before using for live working.
How to store your boots?
When not in use, store NOVAX® boots in a well-ventilated area away from extreme temperature. Never store NOVAX® boots underneath heavy items or in contact with sharp objects. If the NOVAX® boots is wet, allow it to dry slowly and naturally away from direct heat sources before placing it into storage. Use suitable protective packaging to transport the NOVAX® boots, e.g. the original container.
How to clean your boots?
Wash NOVAX® boots with warm water. Do not use any strong washing detergent or caustic cleaning agent. Wet boots should be allowed to dry naturally in a cool and dry environment. Force drying can cause deterioration of the upper and lining materials.
Inspection of boots?
Boots should always be inspected before worn, check for cuts and abrasion to the boot. If wear has occurred the boots should be replaced immediately with new tested/certified NOVAX® boots.